Can drinkin' likker really disinfect a wound?
I don't mean, can consuming some alcohol clean a boo-boo. I mean, can the liquor that we drink, y'know,
drinkin' likker
, cleanse a wound, or maybe your hands, in a pinch?
Should I be carrying around a flask of Absolut instead of a mini-Purell?
You know how in old movies you see a person dump a half a fifth of whiskey on some pour soul's leg before hacking it clean off at the knee, or some such bullshet like that? Is the alcohol that we drink really strong enough to cleanse a wound, or to disinfect the skin's surface before minor "surgery" like removing a limb or three in an emergency?
One wonders.
The American Journal of Surgery: Volume 29, published in 1915, thinks that you can.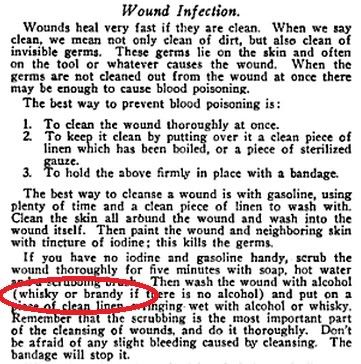 But then again, they thought that the very best way to disinfect the area is with motherfucking gasohol.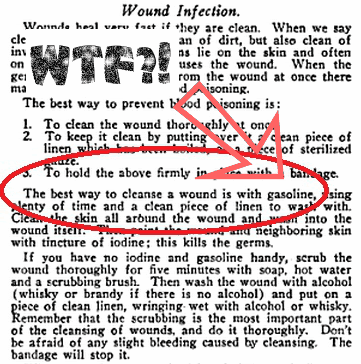 All they are saying...
is give booze a chance.
So I'm still left to wonder if drinkin' likker does anything to really clean an existing wound or disinfect the area before performing a bit of the old quack hack.
Not that I'm planning to slice anyone's leg off at the knee or anything. Not anytime soon. But I mean, don't piss me off, because I have plenty of drinkin' likker around.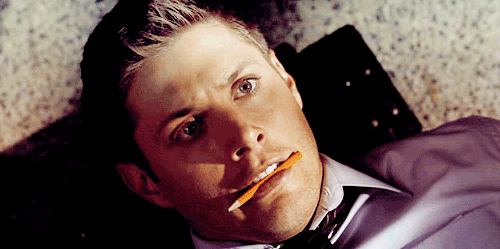 "Here, bite down, this Crown Royal
is going to sting a little..."