Forget Snakes on a Plane. We've got Dukes down the Drain, and I'm over it.
Ever since we potty-trained Maya (it's been over a year now), she has used her little white plastic Bjorn potty chair. For pee-pees and poo-poos. It was the best option for awhile because we could keep it where we needed it, so it could always be close at
hand
bum-bum.
Then we moved it into Maya bedroom so that she could go potty if she needed to during a nap or the night. (Which she still has yet to do, anyway.) And I know, gross, a potty in a bedroom.
But the worst part of it has been cleaning out the poops. I just absolutely dread hearing, "Mommmmmm, I went poo-poo!" (1) because of the wiping of the bum-bum and (2) because of the cleaning of the potty. Yaaarrgggh.
So after having Maya assume standing pike position so I can wipe her bum-bum, I take the potty bowl into the bathroom, open the toilet seat lid (which we always keep down,
and so should you!
), and dump the lump. Then I clean it out with at least three Lysol wipes, then I spray it down with Lysol spray. Heavily.
Then I wash like I've never washed before.
The reason I don't have Maya use the regular toilet is because of the way kids grip it and grasp it and clamber up on it. Then they sit there and usually hold the edges of the toilet seat as they go.
Look! Even Mr. Hanky uses Potty Mitts!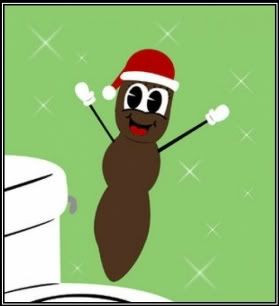 And yeah, I know I could just teach her to always wash her hands after using the toilet, but she goes potty covert-like, without telling me, and I know she'd forget to wash or even use hand-sani sometimes.
Plus, I'm afraid she'll fall in, like I did when I was her age, emotionally scarring me forever.
Anyway, the time has come. I'm tired of scraping motherfucking dukes out of a motherfucking bowl. Plus, she's entering preschool next month (another source of
agonizing anxiety
for me, but that's an entry for another day, child), so I guess I have to teach her how to properly use a toilet and always wash afterward.
Or, just stock up on Potty Mitts.
Maybe if she gets really good at toilet hygiene,
I'll get her these cozy lil critters as a Yay For You! present: