So I was musing the other day: WHO ARE YOU PEOPLE?

You all know me. And if you don't, allow me to introduce myself.
Hello. My name is Jo, and I have OCD.
I gargle with Purell,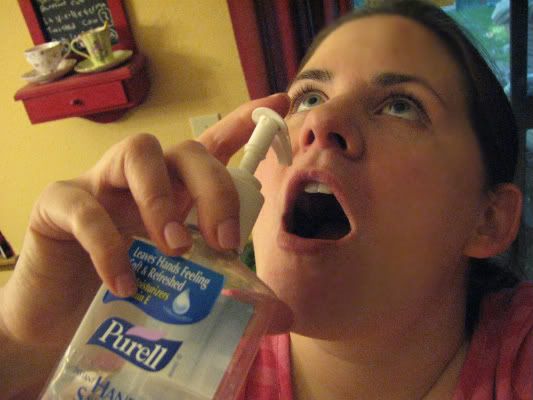 My hands are always sopping with hand sani,
I snort Comet,
And I mainline Clorox.
OK, now you know me.
So who are you?
I have around 130+ hits a day, which I suppose is fair to middling for this young blog, so I want to know who's hitting me. Wouldn't you want to know that?
So introduce yourself! Come say hi! You can post anonymously if you want, but tell me a few things about you! Tell me who you are,
even if you think I already know who you are.
What's your name? Or what shall I call you?
How did you find my blog?
Do I know you in real life?
How long have you been reading it?
What keeps your reading it/what do you like about it?
Or perhaps you think it's a train wreck/what do you hate about it? :P
Do you like Tenacious D?
Can you rub your belly and pat your head?
Can you touch your tongue to your nose? GROSS! Stop this at ONCE! BOOGINS!
Do you have obsessions or compulsions yourself?
DO you think I'm completely, completely nutbar or have you learned a few useful tricks while reading my blog?
Have I changed your outlook in any way?
Y'know, just give me some info about who's reading my nonsense. I'd like to know more! I love my fans and readers so much! And I want to know who you anonymous fuckers are.