Why do people take baths together? Why, in the name of the Father, the son, and the holy toast, why?
Isn't it just sitting there stewing in what I have deemed Ass Soup?
Oooh. Nothing says I love you like butt-soap froth on your face.
Solo baths are bad enough. When I want to take a bath, I shower first. It's just a
Thing I Do
. I wash all my bits in the shower, and
then
I soak in the tub, fresh as the proverbial daisy. I realize this is just too much effort for the vast majority of the American Public at Large. That it just doesn't occur to people to wash their asses before soaking in butt stew. But to soak with another person in butt stew, hiney goulash, or ass soup...it just--I--you can't--you must--you fucking
have to realize
, THAT'S. JUST. GROSS.
Because...because...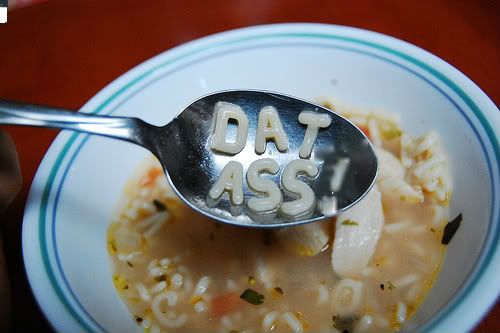 ASS SOUP.
Now listen. I've done it. I've taken baths with boys before. WHOA, SHOCKER.
But I have. I've done it. And it was que romántica, especially as we lounged there to a CD full of soft Celtic tunes. But that was years ago, long before my OCD took a sharp turn for the worse.
And now, those romantic baths of yore are Right Out. Right out. Sorry, husband.
We also have a hot tub, and even though that bitch is chlorifuckinated to the max, I STILL have a hard time soaking in it with someone.
Before heading out to go lounge in it for a bit with my main man, I will ask nonchalantly, "How's your ass?" And he will answer without hesitation, "Pristine." Because he knows I don't even want to soak in a hot tub full of CHLORINE
BLEACH
-WATER with someone else's ass. That's OCD for ya.
[I'm sorry, I'd add one of my awesome pictures here, but Googling "two butts in a hot tub" did not yield any image results that I want my husband to see when he reads my blog. Sorry honey."]
Wait! Here's a safe one.
What what, chicken butt!!
And another!
If that don't want to make you soak in butt stew, I don't know what will.
But still. All you people who take baths with your significant others. How do you do it? I've done it, in the ancient past, but remind me: How do you
do
it? Doesn't it bother you? Do you mind? Do you shower first? Will you still do it now that I've brought it to your attention? Will you now wonder, WWJD (What Would Jo Do)? Will you now forevermore be a little squicked out by sitting in bum-bum chowder? You're welcome.