Well, we survived the Nopocalypse.*
*If this word goes viral, you heard it here first, motherfuckers.
Anyway, the fact that the earth didn't explode is great news. But I have other less-than-stellar news though: I've spent the last four days in the hospital.
This is a long, long, sordid tale. I wonder how many of you will make it through in its entirety?
I'm back now, but let me tell you how much fun it wasn't.
First, what I went in for was intensive treatment for OCD, anxiety, and depression, and they also desperately needed to tweak my meds and wean me off other ones. (Apparently some of the ones I was on are dangerous if you stop cold-turkey.) So this had to be done in a medical-type setting in order for me to be safe. Good times.
I'll tell you, I expected this whole experience to be a lot more like last time, where we learned about making
kale smoothies and taking classes on grief and how to make your life easier by laying out your clothes the night before
,
creating Fimo breads and inspirational-message business-card size "keepsakes" and fucking making got-damn collages
, and
a lot of judgment of me, my life, and my parenting styles
. I expected a lot of boring classes that dragged on forever, and a lot of having to speak in front of people, and a lot of general bullshit that benefat no one.
But this was different because other than a lot of one-on-one time speaking with counselors and doctors, there was nothing to do. Absolutely nothing. Nothing. Nothing. No computer, no cell phone, no phone calls, etc. In fact, I'm so bored right now that I'm hand-writing up this blog on the blank back side of one of my medical-release papers, and I will post it later, which actually is
right now
, DID I JUST BLOW YOUR MIND?
But literally, all there was to do was lie in bed not sleeping, try to nap but fail, and watch TV. There is nothing else. No structure, no classes, nothing. Since I couldn't sleep all day and all night, guess what I did do all day and all night? Watch TV. Who knew there was a
Friends
marathon on every night at 3 am? Well I do now. The four days I was there I probably got 7 hours of sleep total. I was one tired puppydog.
So anyway, I spent ALL DAY in my 1987 CraftoMatic adjustable bed, trying to nap, then giving up and turning on the TV to watch
Let's Make a Deal
.
Door #3, Wayne!
Oh, but I did catch the Miss Universe pageant, the highlight of my hospital stay. And the best part of the show, as usual, was the interviews. Did you guys happen to catch Miss Venezuela??
Her question was, "If you could make a new law, what would it be, and explain why."
Her response? Pure comedy gold:
"I think that any lays that are in Constitution or in life are already made. I think that we should have, ah, a straight way to go in our similar, or, ehh, in, in, in our life, has is this. For example, I am a surfer, and I think that the, the best way that I can take is the way that I wait for it. So please? Do our only, ehh, low that we can do. Thank you Vegas."
Now, I get that this wasn't her first language.* But shouldn't she have at least answered in her own?
* Go ahead, call me racist. Wait, I'll beat you to it.
It is reminiscent of this fine gem:
"I personally believe that U.S. Americans are unable to do so because, uhh, o-some-a people out there in our nation don't have maps and uh, I believe that our, I, education like such as uh, South Africa, and uh, the Iraq, everywhere like such as, and I believe that they should, uhhh, our education over here in the US should help the US, or or should help South Africa, it should help the Iraq and the Asian countries so we will be able to build up our future, for us."
Yeah? I've got one more racist story to tell. Not a single one of the nurses or doctors at the therapy hospital spoke English. Well, not very well, and barely. One of the nurses was named Fartun. I kid you not. How very unfortunate. Unfartunate? *zing* *racist* I was constantly asking people to repeat themselves, although I did grow accustomed to the nurse who would come in to ask if I were finished with my meal and say, "Done you breffas? Done you lonch?"
What can I say, I just wanted to ask someone to sprechen sie Englisch. Bitte?
Racist.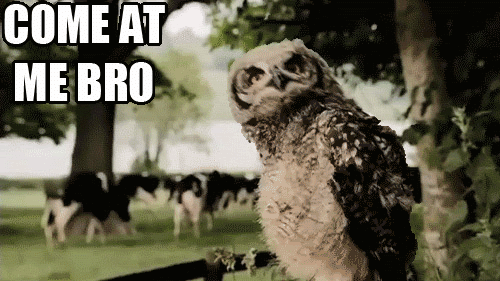 Anyway. Where the hell was before I alienated 77% of you by my racist rants?
Ahh yes. Here's how much else fun it wasn't. Being woken up every morning at 5:15 am (assuming I had even been asleep) to have your blood pressure checked and get my new type of meds. Also a lot of not-fun was getting a mandatory Tuberculosis test (wut), which hurt more than you'd think, and the results of which they never even checked. Good times. Also had to get blood drawn with a needle the size of a pencil, continuing to get my blood pressure taken every two hours, and it was so tight on my arm that it left red spotty bruises and lines of broken blood vessels ALL OVER my arms. My BP was sky-high, which is terribly unusual for me, so now I get to add yet one more med to my laundry-list of meds: Amlodipine, to help lower my ridiculous BP.
Also not fun, at least at first, was sharing a room with someone detoxing from Klonopin, Xanax, other benzos, Suboxone, and alcohol. Among other things. She was so (medically) drugged out that she slept all day and all night for the first two entire days/nights. Literally, all day and all night. I thought she might be seriously overmedicated and literally die. Plus, when she slept, I was all worried about waking her up by using the TV, or adjusting my ASS-LOUD grinding adjustable bed to a sitting or lying position, or just having to socialize when she did wake up, because if I'm anything, I'm antisocial. Oh and also OCD and an anxiety-ridden, depressive lunatic. Bygones.
But yes, antisocial.
I will say, however, that once she did wake up (for maybe an hour here, and hour there), we had great conversations. We talked all about her addictions and her life in detail, and I tried to explain my OCD and anxiety and stuff. Until her muscle relaxers kicked in, and I couldn't understand a single word, she was actually very nice to talk to. Her name is Caryn.
I do have a terrible, terrible story to relate about Caryn. She was detoxing so hard, and she was also so very heavily medicated, that one evening she attempted to sit up in bed and then lean down to pick something up off the floor. She lost her balance, and tried to stand up but ended up falling to the hard floor,
directly on her face
, so incredibly hard. She had to lie there for ages while she regained some consciousness and awareness, but the worst part was, and I even have trouble talking about this, was that when she took her full fall on her face,
she broke off all her front teeth.
I am just in turmoil over it. I can't stop replaying it in my head, having watched her fall, seeing her lying there, seeing the blood, the teeth. And the counselor and I had both been there doing some, well, counseling, and we both saw it start to happen and we and we lurched forward to try to catch her, but we just couldn't make it time. It was all like slow-motion. Saw it start to happen, try to process it, try desperately to get up fast enough to help, and fail. I swear I'm having PTSD about it. I can only imagine how Caryn feels. I know she's in pain, and probably embarrassed, but her teeth are what really humiliate her at this point. She does her best to talk without showing them. Poor sweet girl.
They moved her to another room for some damn reason, which was good and bad, because I liked the girl, but I also liked being alone and being allowed to watch the Jerry Springer show at full volume. lul.
At first I wondered if she had been hoarding her meds like Vicodin and muscle-relaxers, and then had taken them all at once, but the counselor and nurse assured me this was purely part of detox. That's what that shit will do to you. Unreal.
Please remind me to never get addicted to Klonopin, Xanax, or various other assorted and sundry benzos and opiates and such. :(
Anyway, I actually miss Caryn, though I didn't know her for long.
It's amazing how close you can get to someone in a situation like we were in, that is, when she was awake. :) I went in to say goodbye to her, even though she was out-cold (she had told me to promise to wake her before I left), so I gently woke her and told her I was leaving, ad we chatted for a bit, but she was so zonked that I could barely understand her. I did leave her my email address though, and hope to hear from her. She will be in detox another few days and then moves on to two weeks of mandatory inpatient therapy where she will take actual classes and courses and studies and such. I wish her the best of luck.
So. How much other fun wasn't this? I'm glad you asked. Hearing some old lady ranting day and night that she had to go to work, in fact she thought she was at her office and had to go downstairs to do some work, and then she thought she was home and that people were invading her home, and she was trying desperately to get them to let her leave (or to get THEM to leave), and she was just throwing monumental fits. She claimed that security bent her arm behind her back (they didn't) and that staff left huge bruises on her arms from restraining her (they didn't). She kept saying she was going to call the cops, etc.
The sad thing about this was, she wasn't out of her mind on hard drugs, prescription or otherwise, but it was purely alcohol detox. She had a severe case of the DTs (
delerium tremens
) and her detoxing was what was causing her delusions and extreme behavior. Scary shit.
If you're wondering why I went in for intensive OCD therapy and minor med management and yet got stuck in a ward with zombie people with heroin addictions and Klonopin abusers, the best I can compare it to was One-Stop-Shopping for All Manner of Maladies. BOGO, if you will.
Admit one patient addicted to Percocet and get one OCDer for free!
More fun to be not had was seeing people walk around like the aforementioned zombies. Some of these were detoxing, some were just under new medications that they had to adjust to, but either way it was freaky. People sitting there hunched over and drooling. People with lank and incredibly greasy hair. People shuffling along on walkers, even young people. People wearing those backwards hospital type shirts that were gaping open in the back with wild abandon. People stumbling around. There were people there like me, too, but there were also zombies. I guess this place can be a hardcore treatment center for a LOT of issues.
Thank God I didn't have to detox off of cocaine or horse tranquilizers or some shit.
But I did have to get my prescription med situation all correct-like. I've been on so many different meds, and often so many at a time, that it just wreaks havoc sometimes. And such like.
But basically there was a lot of time for introspection. A lot of time for healing. A lot of time to talk to my counselor about my anxieties. A lot of time to watch The Price is Right.*
*Do they ever clean the handle of the big giant spinny wheel thing?
Speaking of germs, you have no idea how hard it was to stay in a hospital bed where I didn't know if I was going to catch lice, bedbugs, or just general grotesqueries. Plus, I have never washed my hands so much in my life. Ever. I came home and the first thing I did was take a rape-shower.
Four days was a long time to work on this shit, yo. Four days away from my kids. Four days away from my husband. Four days away from my own comfy bed. Four days away from playing nonstop Slotomania on Facebook.
QUELLE HORREUR!!
Long-assbutt story short (too late), my meds are back on track, I have a new anti-anxiety pill which seems to be working better than anything Dr. P has EVER put me on. Even though I love Dr. P, he can go suck it.
And I'm off some other meds that were giving me some trouble.
Too bad I had to spend the End of the World in the hospital though.
And such like, indeed.